This is an archive of the epic.EIGHT tournament site. For latest tournament information, please visit tournaments.epiclan.co.uk.
epic.EIGHT Counter-Strike: Source 2v2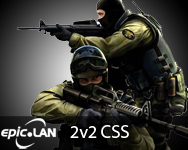 We are pleased to announce a 2v2 tournament to take commence after the main tournament group stages have finished (around 7:30pm).
aim_map
MR15 Double elim
This is a self admining tournament so please ensure you confirm your scores as soon as the match is over to ensure the server can be allocated to the next match.